Download Your FREE Boss School Workbook Sample Pages
Want the entire 70+ Page Workbook?
Enroll in Boss School + Planner Academy NOW

6 NEW Bonuses were just added to Boss School!

What you get: PRIVATE Group Coaching Calls from 6 experts 
EVENTS | Want to throw your own customer event? Then join Annette Naif, from Naif Productions, a professional Event Planner for a 1- hour Q&A. If Ted X Talks trust her to know everything there is about event planning, then you can, too! Annette teaches others how to become Event Planners both in her own programs and via NYU
ALIBABA | The most popular video on my channel is Caitlin's talk about how to purchase from Alibaba. Caitlin is also an expert in FBA and making pretty much anything look better with Swarovski Crystals. You can also ask her about making wholesale purchases directly from her and how to bedazzle planner clips.
KICKSTARTER | Paige from Paige Media Co is not only my professional videographer but also a genius at creating Kickstarter and Indiegogo videos. Even if you're not going that route, no product sales page was ever hurt by having a Hollywood style product video. 
FACEBOOK ADS | Kamila Gornia from Heart Behind Hustle is going to teach you everything you need to know to sell your planners using paid Facebook Ads. How much should you spend, who should you target, what should your ad say, is video better than static images….this is actually a hands-on training session!
COPY | Are you hiding behind a voice that sounds like everyone else's? Do you feel like your descriptions don't adequately convey the value of your beautifully designed planner? Meet Lauren Vanessa Zink, the word magician behind multiple 6-figure launches. This is a slide-based training program!
SHOPIFY | Elle McCann from Curious Themes will be available to answer everything you've ever wanted to know about Shopify + e-Commerce: what themes are best, should you pay for a premium theme, which Shopify plug-ins are worth investing in and more! This is a Zoom call so if you want to share your screen and show Elle exactly what tech issues you're having in Shopify, you can! This is a hands-on business and tech Q&A.
NOTE | Bonuses are exclusive to Boss School students
What Is Boss School
Group Mentoring | Coaching | Accountability
Boss School Includes Everything in Planner Academy Core PLUS
LIVE Group Coaching Program (6 sessions – replays available after)
Business Plan Workbook (70+ pages)
Comprehensive Course Workbook (25+ pages)
LIVE Group Coaching Program includes ($1182 Value)
Six (6) Weekly Group Coaching, Mentoring and Accountability Sessions
Coaching delivered LIVE every week
Course Material Review
Course Schedule To Keep You On Track
Accountability Check Ins
Technical Help With Adobe InDesign
Private Boss School Forum (Priceless)
Comprehensive Business Plan Workbook includes $497 Value)
Delivered LIVE on 4/23/2019
Workshop Lecture [Lunch & Learn style]
Slide Deck from Workshop Lecture
A Business Plan specifically for Plannerpreneurs
Tailored Questions for both digital and physical planners
Seventy (70+) pages
Comprehensive Course Workbook ($197 Value)
Detailed To Do Lists
Course Checklists
InDesign Skills Checklist
Stay on track to complete this course all the way through
Have someone hold your hand through the course material
Total Value $1,876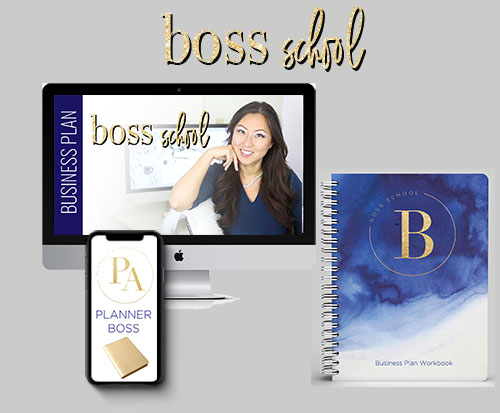 Schedule
Boss School Weekly Group Coaching & Mentoring Calls
Tuesday 4/23 @ 12pm PST | Business Plan Workshop
Tuesday 4/30 @ 12pm PST | Planner Academy 201 Recap
Tuesday 5/7 @ 12pm PST |Planner Academy 301 Recap
Tuesday 5/14 @ 12pm PST |Planner Academy 401 Recap
Tuesday 5/21 @ 12pm PST |Planner Academy 501 Recap
Tuesday 5/28 @ 12pm PST |Planner Academy 601 Recap
All calls are recording and replays available immediately after.