Create & Sell Your Own Planner
(Even if you've never designed anything before)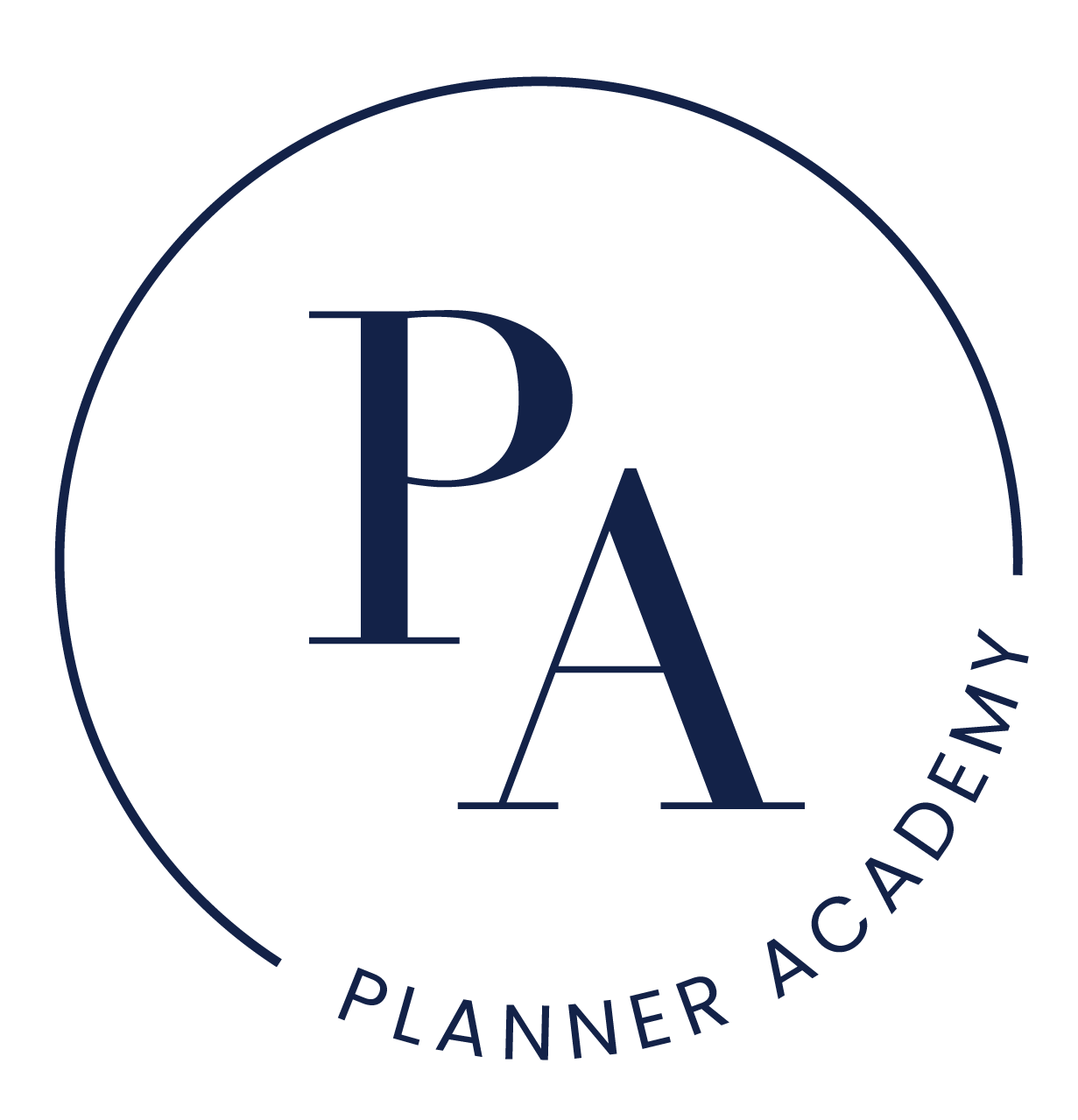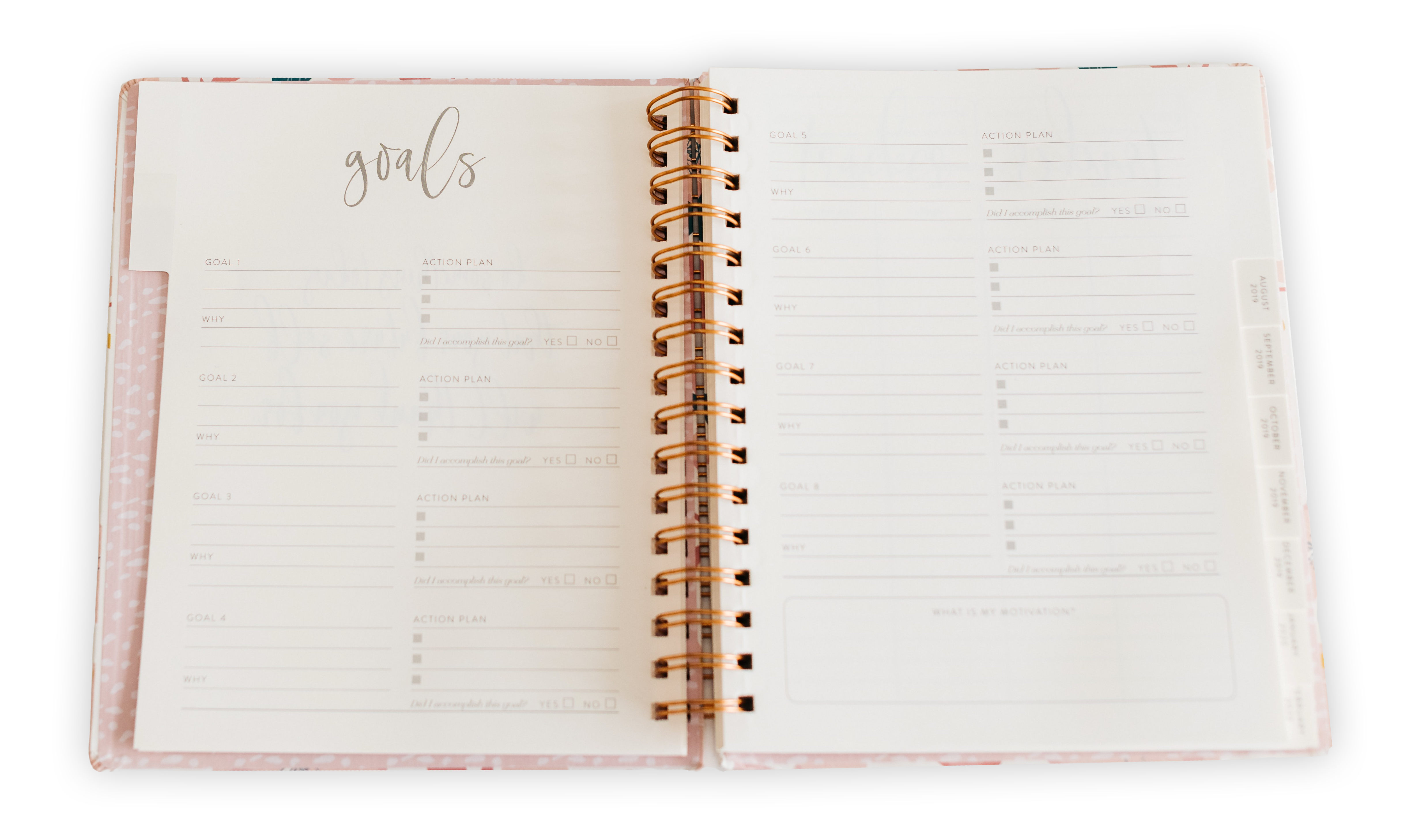 Build and sell beautiful planners that make people's lives better?
Monetize your ideas and create a side-hustle you love? (Hello, fancy vacation you've been dreaming about! It's finally time to take you!)
Have the freedom to work from anywhere, make your own hours, and define success on your own terms?
Design — and LIVE — your dream life?
Here's a little secret between me and you…
"Hey, I could make one so much better than this."

OR MAYBE YOU LOOKED DOWN AND THOUGHT….
I really wish they hadn't squeezed the entire week onto one page. This just isn't practical.
Only a shrunk-down version of the Ant-Man could write in lines this tiny. I'll need glasses just to read this later!
Where is my Notes section? I have so many ideas I need to jot down, like, yesterday!
Why did they ruin it with these bizarrely ugly colors? Don't they know planners are supposed to be pretty?
Why don't they offer an option to customize the cover my inserts? There's gotta be a way to make this planner work better for me.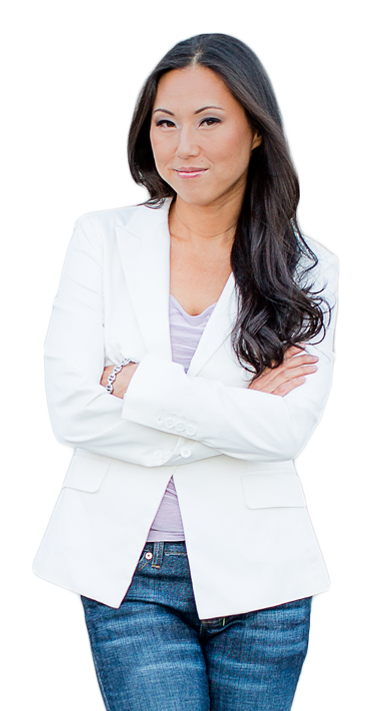 You're Totally Meant To Make & Sell Planners.
AND YOU SHOULD BE SUPER EXCITED, BECAUSE…
As a Plannerpreneur, you get to:
MAKE YOUR OWN HOURS Because when you're in charge, you get the freedom to create your own schedule. Orange Theory at 3 PM on a Tuesday? Don't mind if I do!

REMODEL YOUR HOME So you can afford that kitchen remodel you've been wanting: Granite countertops and marble flooring? Go for it!

SHOWCASE YOUR CREATIVITY TO THE WORLD Dream. Create. Live. And make money at the same time.

SPA DAY Because it will allow you to upgrade your current lifestyle: Hello spa days & maid service!

YOU'RE THE BOSS So you can be in charge of your own future: Didn't get that raise or promotion at the office? Who cares? You get to decide how much your income will be this year.

PASSIVE INCOME Imagine waking up to find out you've made your entire month's rent while you were sleeping? Is it a dream? No. You earned it.

BE THE #1 BREADWINNER Move over, Greg! Mama's got the money now! Unexpected HVAC repairs for the home? No problem! When you've got an income stream of your own, you can save the day in your household — and pay next month's bills. Ah, it feels good to be the Queen.

FOLLOW YOUR PASSION Who doesn't want to do what they love? You were going to create and dream about planners anyway, so why not make some extra $$ while you do?!
Sure, you could hire a designer to do it for you — but is it really worth all the hassle?
Exorbitantly Expensive
Would I even make back my initial investment? There's no way to know!

Project Delays
Ummm, thanks for delivering the final design in February after the year has already passed and planners are on sale for 80% off

Wrong Design
The final end product looked nothing like I described – was the designer even listening during our discovery call? Back to the drawing board.
But DIY-ing it all alone came with a whole other set of problems…
Canva, Word, Excel and Powerpoint had so many limitations on layout designs, and it was soooo frustrating for me to try to design on them
Adobe InDesign was really the only solution that would work, but every time I opened it, I was so overwhelmed, I wanted to cry. Don't look at me! It's allergies, ok?!
IF YOU'RE ON THIS PAGE (AND LOOK! YOU ARE)…
You're ready to monetize your great ideas, but you're struggling to create the perfect planner
What you've penciled out on paper looks nothing like the luxurious & high-end beautiful layout you see in your head. There's a disconnect between brain and page, and you need help closing the gap.
Or maybe you're the exact opposite of that and all of your hand-drawn Bullet Journals are totally Instagram-worthy and now you're ready to digitize your beautiful designs into a beautiful planner to share with the world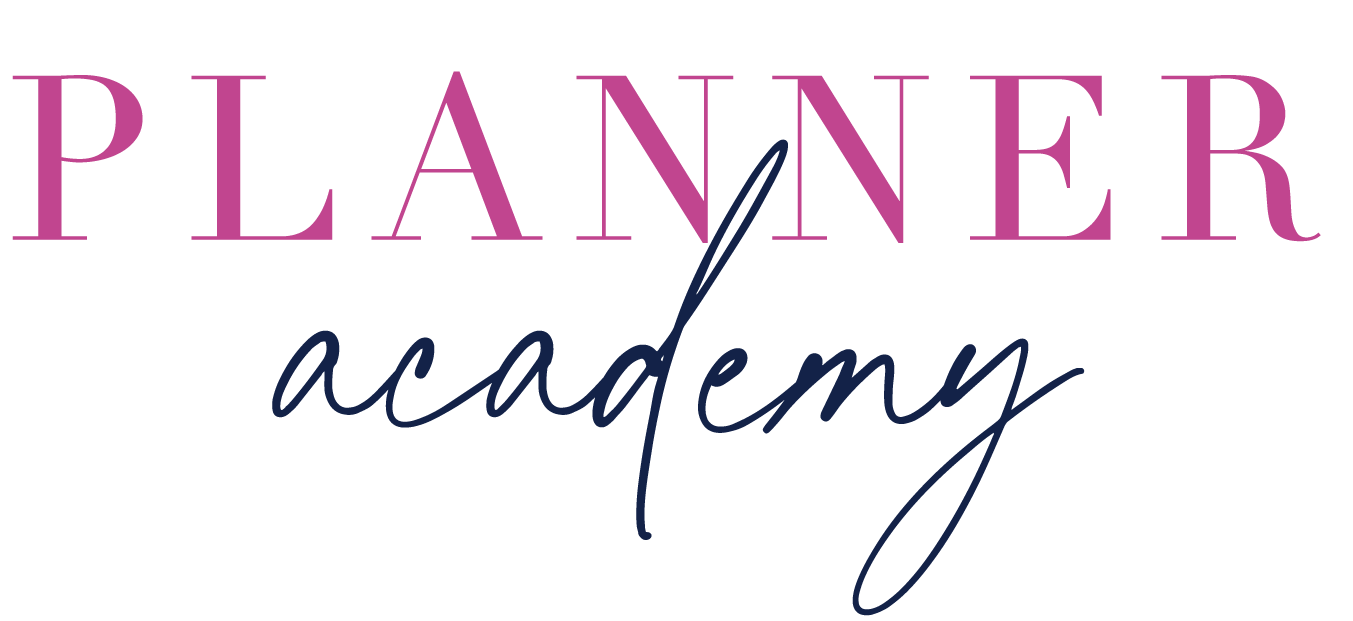 I've packed everything I know about creating, designing and selling planners into an easy-to-follow, A-Z course.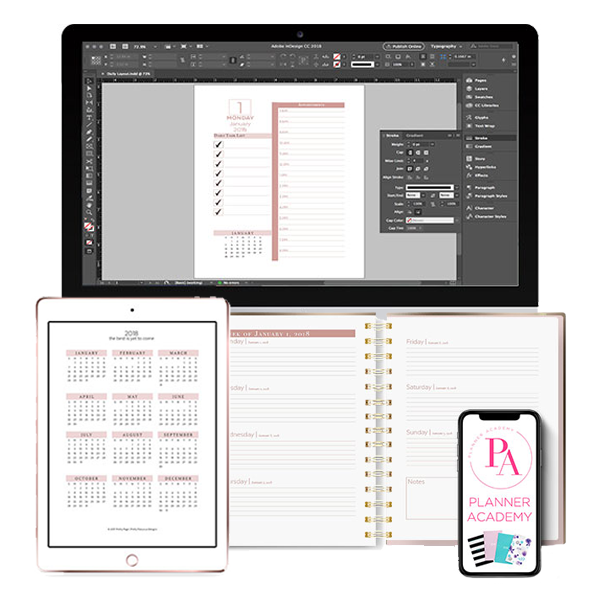 Planner Academy will take you from
"I don't know where to start!"
to finally earning money with your own planner.
BEFORE I EVER BECAME A SELF-TAUGHT PLANNER DESIGNER PRO,
I was just a girl who really wanted to learn how to make her own planner.
I looked everywhere on the Internet for a course that would show me how — but I came up completely empty. I wanted to learn so badly, I started messaging Planner Creators to ask if they would teach me. They said, "No problem…Just pay me my $24,000 consulting fee." I was like, "Really? Because the planner I'm gonna make is probably only gonna sell for $30."
So I decided to figure it out on my own! 20,000 YouTube subscribers later, now I sell templates and programs to bloggers, course course creators, online businesses, marketers, and moms who all want to become Plannerpreneuers. 
Join us inside the Planner Academy

Planner Academy is jam-packed with video modules, workbooks, templates, tutorials, done-for-you designs and live biweekly coaching support for women JUST like you.
WHEN YOU TAKE PLANNER ACADEMY, YOU'RE SAYING "YES" TO:
MORE PROFIT
Because money loves beautiful things — and so do potential customers (Ever paid more to get it in Rose Gold than standard-issue black? I definitely have!)

LESS FRUSTRATION
Never stare at a blank page again (I have soo-o many templates to share with you, so you never have to start designing from Square One!)

MORE CONFIDENCE
Always know exactly what you're doing every time you open up Adobe InDesign (No more fear)

MORE TIME
Want a list of pre-approved vendors you can trust, pre-made templates that you simply edit and step-by-step instructions on how to do just about everything? Of course, you do. The word "research" no longer applies here. It's all available inside Planner Academy.

SAVE MONEY
Any Decent Designer charges between $200 – $750 / hour, but you'll never have to pay a designer again because you ARE the designer!

MORE SALES
A huge part of being a PlannerBoss isn't just creating planners but knowing how to sell them – I'll show you how

MORE FREEDOM
When you're a Plannerpreneur, you can make your own hours, work from wherever, and do work you actually enjoy. What's not to love?!
"I was really worried about having to use InDesign but your tutorials were so easy to follow. Thanks for making this so painless. I sold my first planner today! I can't believe I sell planners."
Let's take a tour through Planner Academy 2.0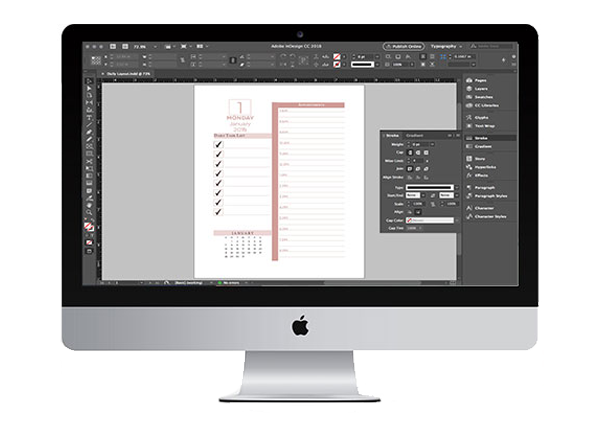 Welcome to the most comprehensive and only planner course out there. We'll talk about how Planner Academy 2.0 sets you up for success right from the get-go and how to get the most out of this course.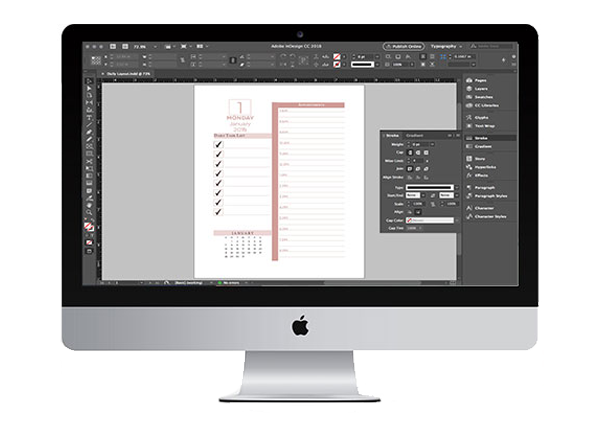 Choosing a Profitable
Planner Niche
Let's create the planner of your dreams by carving out the best themes, trends, types of planners that everyone is looking for. The riches are in the niches and there are plenty of great planner ideas out there waiting for you to create them. Let's find one that resonates with you, your business and your message.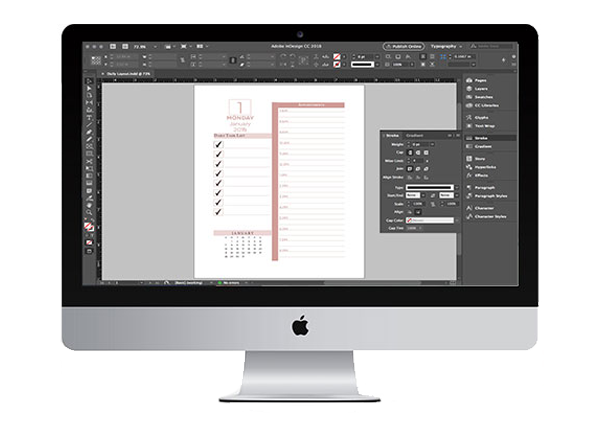 Learn all of the planner content terminology so you're speaking the same language as your competitors and can communicate properly with print vendors and graphic designers on what you want to see inside and how you want it represented. Create a unique and positive user experience that makes customers want to reorder from you year after year.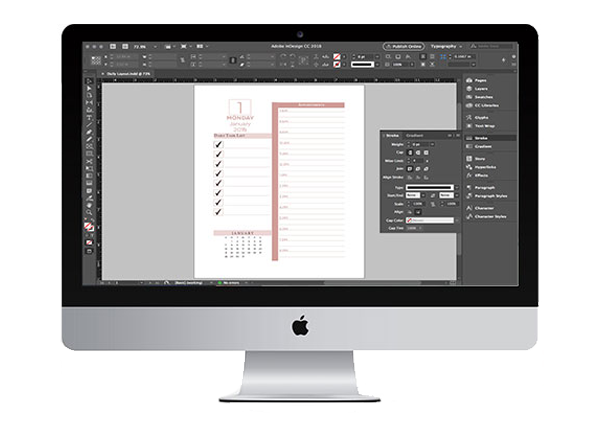 Planners come in many different shapes, sizes and formats. Let's go through all of your options and choose the best one for you – it could be all 3: Physical Printed Planners, Digital Planners for the iPad Pro + Tablets, Printable PDFs that customers download and print. I'll walk you through all of the different paper and size options out there.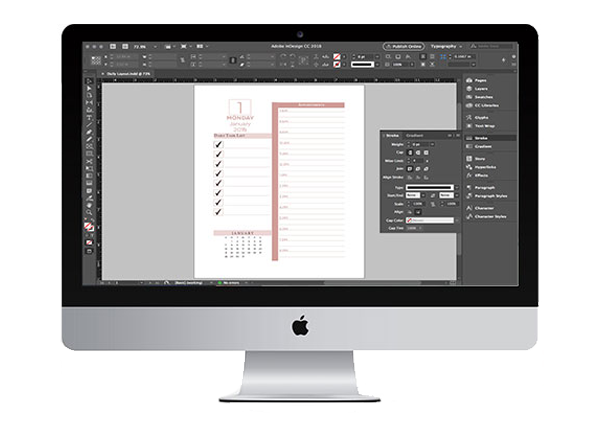 Who doesn't love physical planners that you can touch, feel and hold. Your customers want to get their planners delivered straight to your door. Or maybe you'd like to get them into major retail big boxes like Target or Office Depot.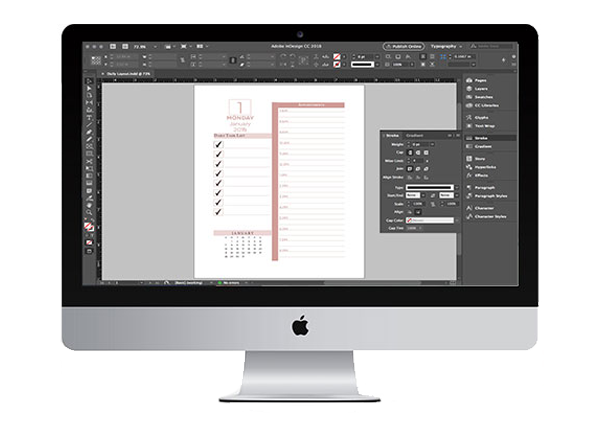 Creating Your Digital
Planner Shop
Did you know that iPad growth grew 41% in the first quarter of 2021, reaching $8.4 Billion? It's safe to say, more and more users are looking for iPad only solutions everyday. And yes, all of the lessons I'm going to show you will teach you how to design your digital planner from scratch using Adobe Indesign.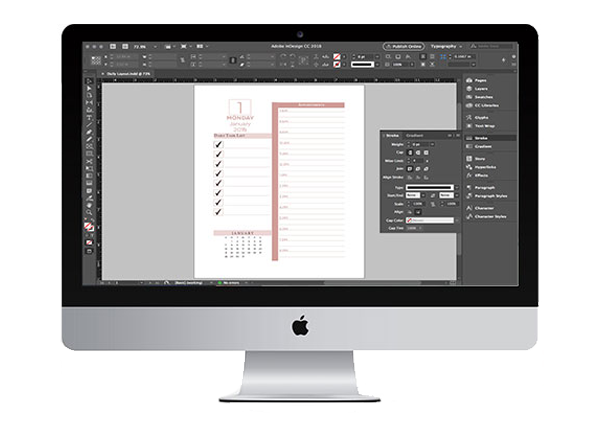 Creating Your Digital
Planner Shop
You don't have to create an entire planner. Tons of customers are looking for 1-page trackers, daily planning sheets, weekly meal planners, grocery shopping lists, weight loss and fitness trackers and more. The possibilities are endless. You create PDFs and they download and print them on their own. And yes, you can have different sizes. Create inserts for the popular A5 planners with cut lines.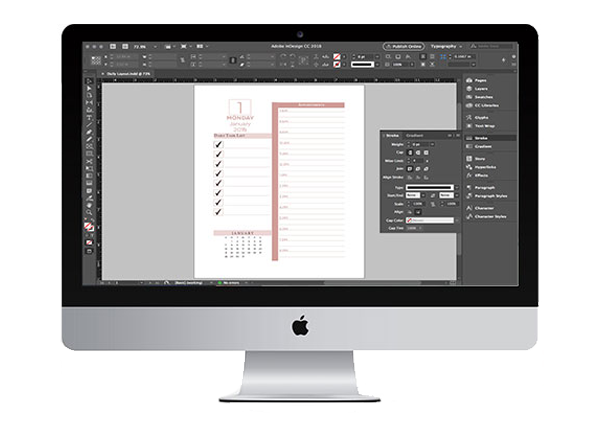 Your Planner Sales
Platform
Everyone's on Etsy, including me! But there are tons of different options out there. We'll talk through the pros and cons of selling your planners with an Etsy Shop, your own website and Shopify and other options like direct to customers on social media, craft fairs and through affiliates.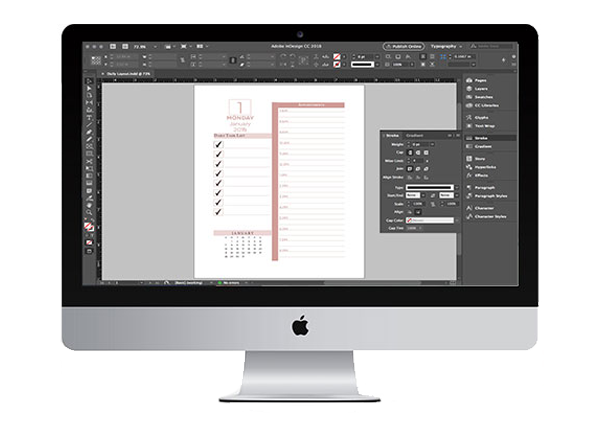 DIY Adobe Indesign Planner Layout Tutorials
Let's design your planner together using Adobe Indesign – this module will take a total newbie (not even sure what the word graphic design means) and will walk you through step by step on how to create your own planner layouts from scratch. This is an EXTRA module because it's completely optional. I highly recommend buying a pre-made template from my shop, a Planner Pop Up Shop Kit or outsourcing the design to get your planner business up and running ASAP. Learning Adobe Indesign does have a steep learning curve but if you're determined to learn it, I can show you how!

Paula now has exactly what she needs to sell planners on Etsy
"I'm so excited about my Etsy Shop. This is a dream come true. I've always wanted to make my own planners but never knew how or where to start. Thank you so much for this course. I couldn't have done it without you."
OH, YOU THOUGHT THAT WAS IT? HOW SILLY!
Don't forget about all the bonuses you get…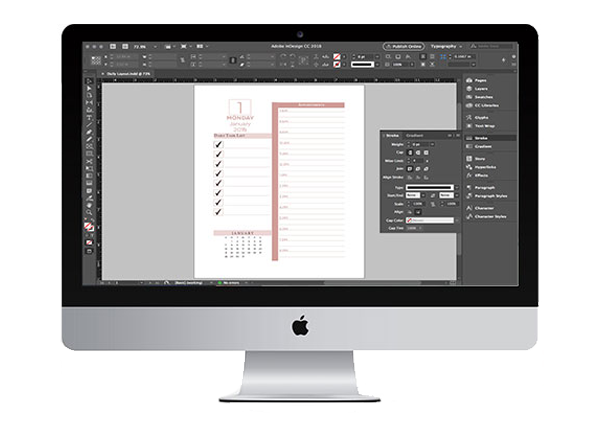 Planner Subscription Box Masterclass
Do you have a million great ideas for planner subscription boxes you know people would love if only you knew how to make money from creating one? Are there a ton of great planner accessories and office supplies you'd love to curate into a working mom box?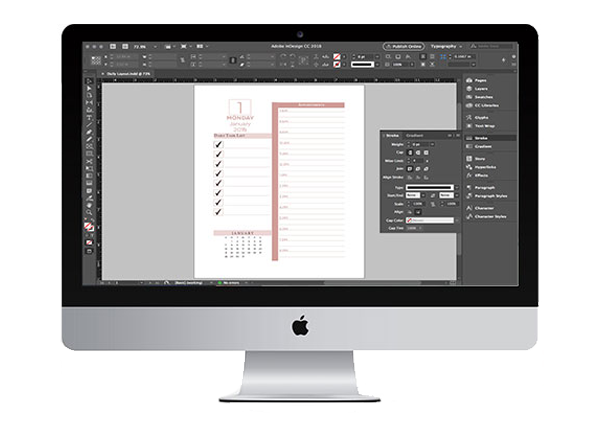 Satisfy the sticker fiend in all of your clients by learning how to create your own sheet of profitable stickers. We'll discuss how to outsource the design and production. If you're a DIY creative and want to open up a Planner Shop in your living room, I'll share all of my favorite supplies: printers, where to get sticker paper, and how to ship them out.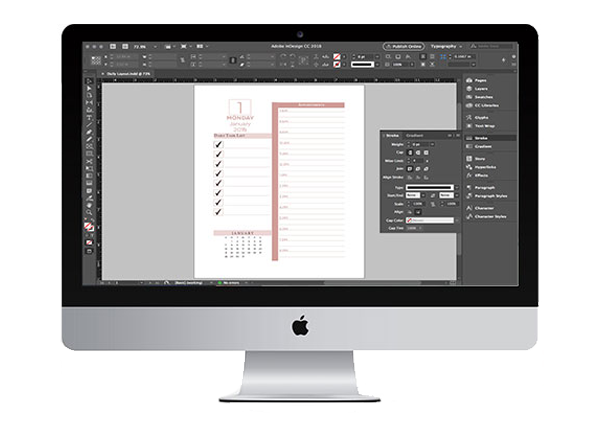 Facebook Ads for Planner Shops
Satisfy the sticker fiend in all of your clients by learning how to create your own sheet of profitable stickers. We'll discuss how to outsource the design and production. If you're a DIY creative and want to open up a Planner Shop in your living room, I'll share all of my favorite supplies: printers, where to get sticker paper and how to ship them out.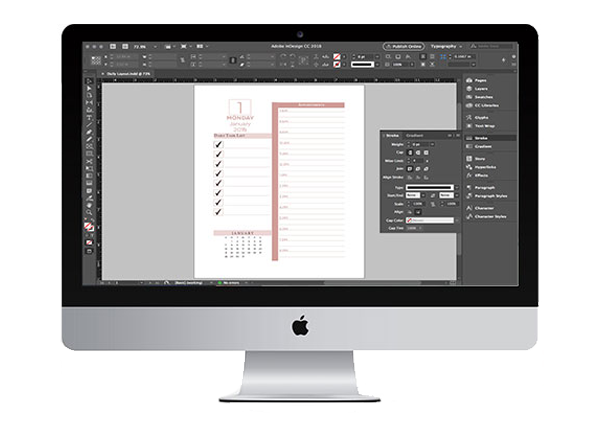 Planner Product Photography
Will anyone buy your amazing and gorgeous planner if they don't know what it looks like? Probably not! You can hire a professional photographer or get this master class on how to take your own amazing photos at home and what products to curate for a lifestyle shot.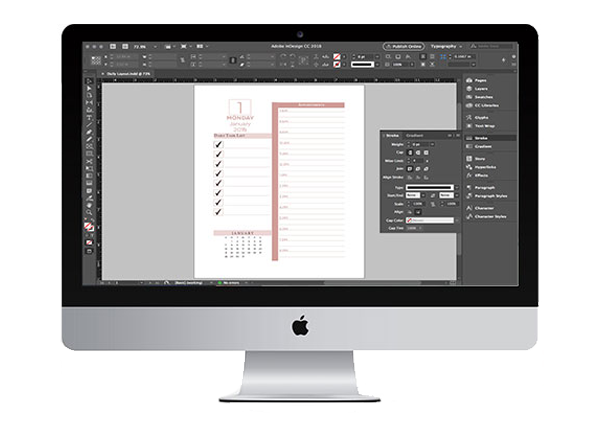 Don't have the time or energy to learn how to put complementary color palettes together? Do the words monochromatic, triad, shades, tint and analogous colors bore you? Overwhelmed by all the gazillion font pairings out there? Then skip it all and choose one of these done-for-you moodboards.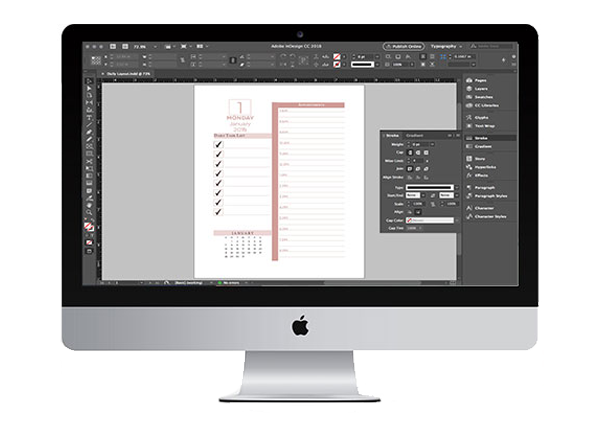 The 30-Day Launch Roadmap
You've created your planner and you're ready to launch to your list but wait – what if you don't have a list? What if you have 3 followers on social media for your new Business and they're all people in your immediate family? Sounds like you need a Launch Roadmap to make sure you have the best Opening Day ever.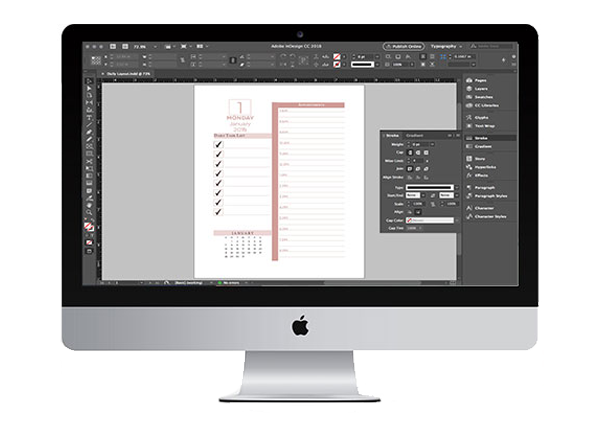 Sell Low Content Planners on KDP
Want to sell your planners, notebooks and journals on Amazon KDP (Kindle Direct Publishing) and make bank? Of course, you do! Learn my friend Rachel's secret Ladder Method that has launched her six figure business and allowed her to go on maternity leave and not lose a penny!


Join us inside the Planner Academy
"I can't tell you how grateful I am that you made this course. Everything makes so much sense the way you put it together. No one else out there helps with this."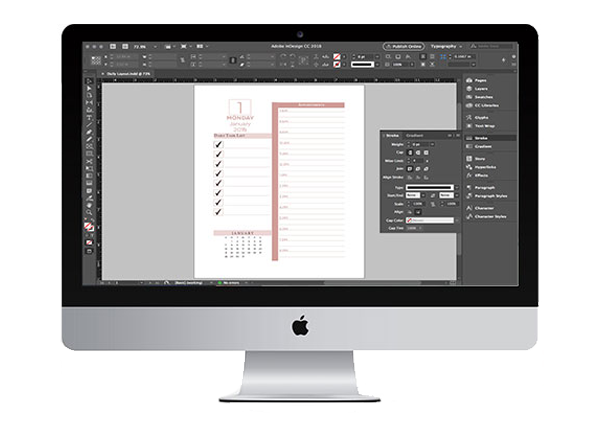 Apple pie donut bonbon chocolate brownie lemon drops gummies ice cream. Cupcake carrot cake jelly beans halvah jujubes bear claw sweet roll pie pudding. Marzipan candy canes pudding lemon drops wafer cheesecake powder jelly-o.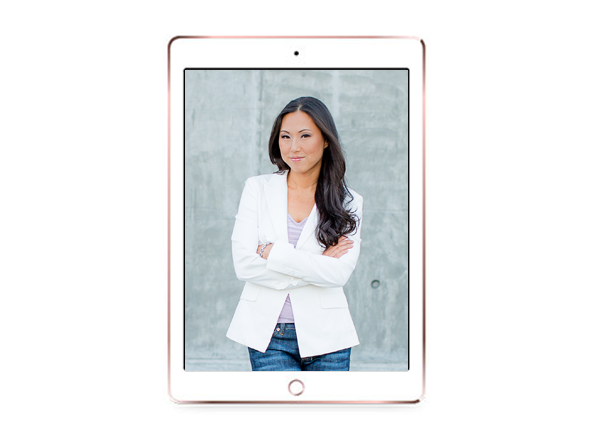 Apple pie donut bonbon chocolate brownie lemon drops gummies ice cream. Cupcake carrot cake jelly beans halvah jujubes bear claw sweet roll pie pudding. Marzipan candy canes pudding lemon drops wafer cheesecake powder jelly-o.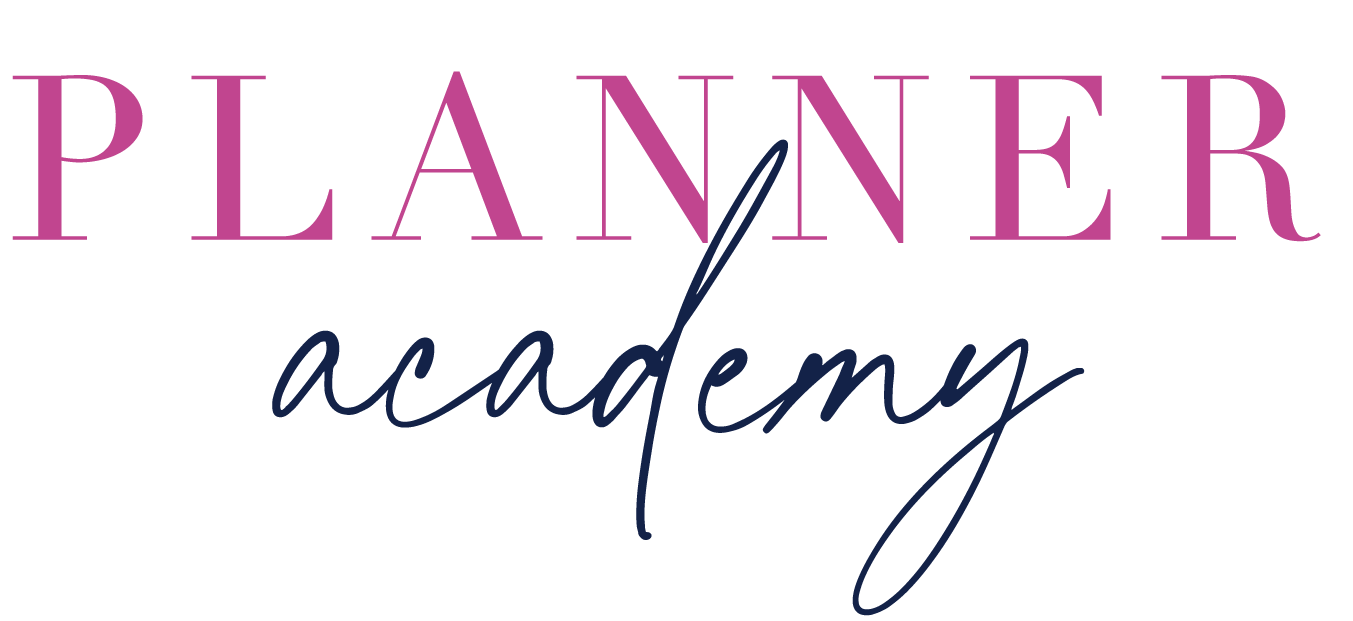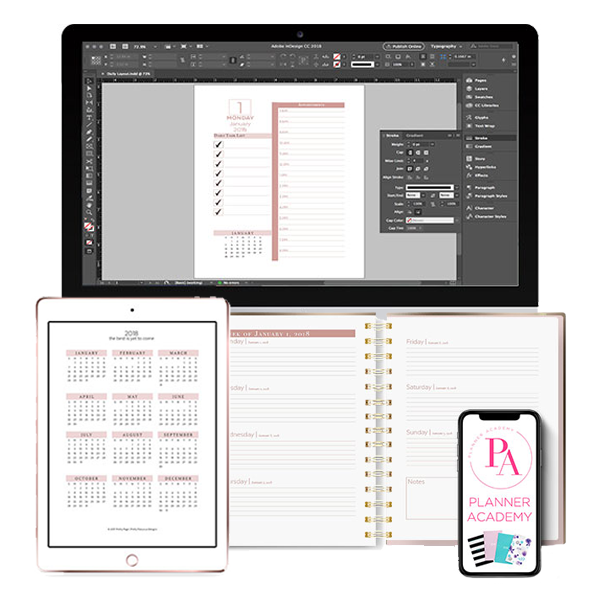 IN CASE YOU HAVEN'T NOTICED…
This is a hands-on planner design course that leaves nothing to chance.
This is not a fluff course that tells you the what without the how to trick you into buying 1-1 coaching or design services. (I don't even offer those!)
Inside Planner Academy, I walk you through screen-by-screen, click-by-click exactly what tool to select in the application, when to click it and where so you can be fully functional, operational, and PROFITABLE all on your own. And if you need any extra support on top of it, it's available to you inside the forum and on the twice monthly coaching calls. 
It's also the most comprehensive planner creation course on the market.
When you join Planner Academy, you will receive EVERYTHING you need to start creating and selling your won printable, digital or paper planners.
Paula now has exactly what she needs to sell planners on Etsy
"I'm so excited about my Etsy Shop. This is a dream come true. I've always wanted to make my own planners but never knew how or where to start. Thank you so much for this course. I couldn't have done it without you."
Frequently Asked Questions
Q: How long does the course take?
A: How about, "As long as you want it to?" You'll have immediate access to the entire course as soon as you purchase, so you can work through all the material at your own pace. Many students like to do one lesson a week, but others love the thrill of cranking it all out at once. It's totally up to you! But you can definitely fast-track yourself and get your planners and planner store up selling within a couple weeks if you work on this full-time!
Q: Can I use Canva or Microsoft Word instead of Adobe InDesign?
A: You could but do you really want to? All of the design lessons in Planner Academy are taught in Adobe InDesign because I want you to be able to create beautiful planner layouts that make people say WOW — and InDesign is the BEST program to help you do it. We're going to create upscale, high-end luxury planners worthy of celebrity clientele. Let everyone else use Word and Canva – you're moving onto something better!
Q: How much is Adobe InDesign?
A: It's $20.99/month for InDesign alone or you can purchase the entire Creative Cloud Bundle for $52.99/month and also have access to Adobe programs like Photoshop, Illustrator, Premiere and more. Or you can sign up for a free 30-day trial here which I would suggest activating when you're ready to start Module Two: Design. I'll walk you through exactly how to sign up for a free trial. All Adobe software subscriptions are month-to-month so you can unsubscribe whenever you want and re-subscribe as needed.
Q: Can I hire someone to make a planner for me?
A: Yes! I have specific designers that are able to create planners for you to re-sell that you can hire. (READ: You won't have to touch InDesign!) Their names + contact info are available to you inside Planner Academy.
Q: Do you share all of your vendor names & contact information for printing?
A: Heck yah! Full transparency. My friends are your friends. P.S. I get emails from people all. the. time. asking if I'll sell them my vendor list, and I have to tell them no. The ONLY way to get your hands on it is inside Planner Academy.
Q: What if I'm already a designer – will I get anything out of this course?
A: If you already know how to use InDesign, you do NOT NEED THIS COURSE for InDesign lessons. The InDesign lessons are meant for beginners. There are no advanced InDesign lessons in here. I repeat – there are no super advanced lessons on how to use the esoteric parts of InDesign that you were hoping some secret Yoda Jedi master would reveal to you in this course. However, there is great value in which coil binding works best, where to get them bound, which overseas vendors to hire for mass production, how to set up drop shipping and so much more. And there are a ton of marketing lessons.You cannot purchase these separately.
Q: Can I use these planner templates in my own planners?
A: For sure, that's what the planner templates are there for! But they must be sold as PDFs or in physical format. The only thing that you cannot do is sell or share them as InDesign files to clients, customers or on design platforms like Creative Market. The purpose of the InDesign templates are to help you to learn, edit faster and start selling your own planners right away.
Q: Which planner templates are included?
A: The 17+ InDesign Planner Templates include everything you need to create an entire printable or digital planner or Notebook of your very own:
Annual layout
Monthly layout
Weekly layout (2)
Daily layout
Notes pages
Grocery Shopping List
Goal Setting Worksheet
Front Cover
Back Cover
Welcome layout
How to print instructions
Advertisement layout
Dot Grid Matrix
Pages for Bullet Journals
Graph Paper for Bullet Journals
Complete 2020* Weekly Planner
*This will be updated with 2021 Dates [available May 2020]
All templates are provided in standard 8.5 x 11" size but I include a lesson on how to easily re-size these to A4, half-size, mini, pocket or any other size you desire.
Want to make these pages your own? You'll also get branding guide templates, mood boards and pre-designed logo examples in the Beautiful Branding bonus module.
Q: Are these the same templates that I already purchased in your Shop or the Etsy Kickstarter?
A: Not a chance! These templates are exclusive to Planner Academy and are not available for sale anywhere else. You must be enrolled as a student in Planner Academy to get them.
Q: What if I change my mind. Can I get a refund?
A: No. You can't love the course without getting instant access to all of the modules, all of the video lessons, the slide decks, the templates, the checklists, the workbooks and the bonuses so for that reason, I'm not able to offer refunds due to the digital nature of the course. I want to share everything with you right away, right now. Do you love planners + love the idea of creating your own, whether it's for personal or commercial use? Then you won't hate this course. Seriously – this course rocks! It speaks your language – it's all about planners, design layouts, printing, production, opening up a kicka$% Etsy shop to sell them in & more. I can't even imagine why you'd be unhappy for even a second. If there's something missing from this course, you can guarantee that I'm in the process of adding it.
Q: What happens after I purchase?
A: So glad you asked! Because I want to reward you for jumping in with both feet, you'll promptly receive an email where you can access all video lessons + templates and get started right away! There's no waiting.
1. The downloads you receive will include 17+ InDesign Templates, 3 Workbooks, 6+ Slide Decks from the lectures + a (bonus!) Photoshop template for the Branding Identity Kit + Mood Board
2. You will also get instant access to all Bonus Materials, so you can pour yourself a cuppa Chocolate Peppermint Tea and start binging right away.
3. You will find an Orientation video + instructions on how to navigate the course as soon as you log in. #easy
4. You'll also be automatically added to the private forum group to ask any questions
5. Don't forget, you're also grandfathered into any new Planner Academy future updates
Join us inside the Planner Academy
Is Planner Academy right for you?
Anyone who cannot bear the idea of going one more day without going after their dreams
Women who want to create passive income, so they can get off the "working way too hard" hamster wheel
People who want to put themselves in the CEO chair, make their own flexible schedules, and call themselves The Boss of their own company #mycouchismycorneroffice
Bloggers who want to monetize their audience and sell digital products they know their readers will love
Coaches who want to WOW their clients with beautiful planners, journals and notebook
Stay-at-home moms who want to bring in extra funds for their family and create a new level of financial freedom
Graphic Designers who want to up level their skillset and add a new stream of revenue to their businesses
Virtual Assistants who want to increase their profitability and keep their clients organized
Course Creators who want to increase their income by increasing their offerings online
Conference Hosts and event planners who want to provide that special WOW-factor to their attendees (Can you imagine how impressed your audience would be if they got to leave your event, planner in hand? You'd get so many more shares on Instagram!)
Mastermind Retreat Facilitators who want to bring their A-game through amazing bonuses your clients will adore
Teachers who want to dazzle their their students with academic planners
Homeschool Moms who want to organize their learning curriculum and keep their kids on top of their lessons
Those with a day job looking to create an easy online side-hustle
Typography lovers looking to showcase their favorite fonts in a beautiful planner
Anyone who can't find their dream planner and wants to create their own
"I can't tell you how grateful I am that you made this course. Everything makes so much sense the way you put it together. No one else out there helps with this."
I'M PROUD TO SUPPORT WOMEN AROUND THE WORLD AND IN A VARIETY OF INDUSTRIES INSIDE PLANNER ACADEMY.
What joins us all together?
The desire to add more beauty, freedom, flexibility, and income to our lives.
Imagine knowing exactly how to get started creating and selling your perfect planner. You follow the easy, step-by-step tutorials laid out for you inside Planner Academy, where you're able to quickly and seamlessly design a planner you're proud of. Then you take a peek at the preferred vendor list and pick the right printer for you. Before you know it, a box arrives at your doorstep.
It's the planner you've been THINKING about making for years now. The planner that, with the support + guidance inside Planner Academy, you actually finished. You can hold it in your hands. You can sell it online and watch the payment notifications pop up on your phone. You can give it out as presents to your amazed friends and family. You can even put on your best suit and pitch major retailers to carry it, like Sara Blakely did with Spanx.
With Planner Academy, the possibilities are endless.
Join us inside the Planner Academy
About your Planner Academy Professor…
Hello, there – I'm Lisa, the only self-declared Planner Designer in the world and the #Girlboss behind Pretty Fabulous Designs. Through my popular YouTube channel and paid programs, I've taught tens of thousands of creatives how to create & sell beautiful digital downloads using Adobe InDesign.
I'm 100% self-taught so don't look for some days of yore story about how I've been designing with Crayolas since I was 5, because I haven't. I have an MBA + over a decade in Corporate America as an HR Executive, but discovered I love creating, crafting and coaching more. 
Now I live in San Diego, love brunch dates, Afternoon Tea outings and I have a serious ice cream addiction. (I even make it at home!) I'm also a bestselling romance and cozy mystery author.
Join us inside the Planner Academy